Neobuild Innovation Center
Neobuild has built a real laboratory that hosts more than 100 different materials, products and systems. This nearly zero energy building established in Bettembourg offers various possibilities for monitoring and testing.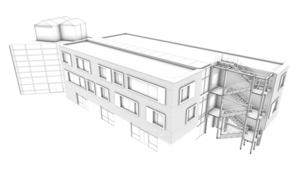 The building is a real tool opened to all who wishes to observe and to analyze the behavior or the evolution of the innovations installed, in field conditions. The following materials/products are currently being tested: different coatings, insulators, triple glazing, wood, concrete or straw facades, and even pre-walls vacuum insulated.
For more information, watch the Neobuild Innovation Center immersive video.
Discover our photos and videos galleries:
You look for a place to organize your meetings and events, come to our living lab: